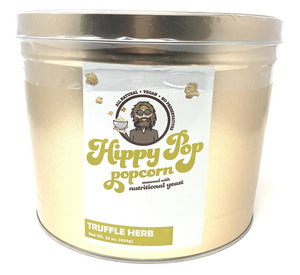 Truffle Herb Popcorn Tin
Our popcorn tins are made to order, so you do not have to worry about freshness!
This luxurious popcorn will satisfy the most discerning of pallets. Kettle cooked in small batches in organic coconut oil and then drizzled with Extra Virgin Olive Oil and seasoned with our Special Truffle Herb and Nutritional Yeast Seasoning blend. Vegan, gluten-free, and whole grain, this delectable popcorn is reminiscent of truffle Parmesan fries without the guilt!